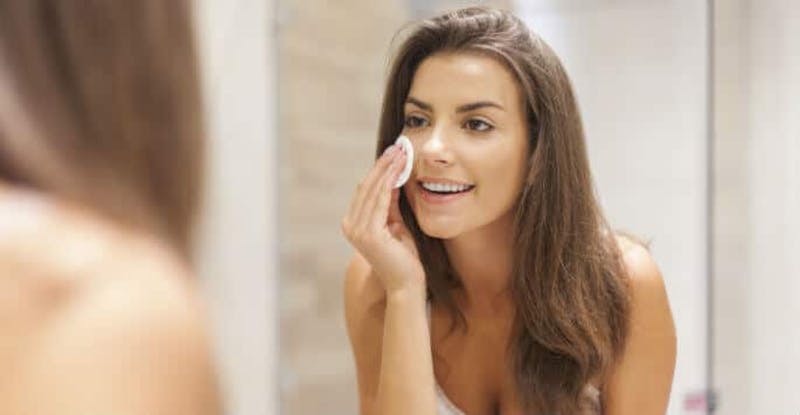 Doctor Karyn Grossman was recently featured in an article on Refinery29, written by Nina Judar….
We live in a more is better culture. So if you're piling on skin care at the same rate that Kim Kardashian goes through contouring cream, we don't blame you. As long as what you're using is benign, like gentle cleansers, hydrating masks, and lotions, go for it. This urge to amass goes awry when you're assaulting skin with too many active, irritating ingredients. (Lobster face, we are on to you.) Your thinking may go something like this: "If a little stinging means it's working, then a straight-out burn means it's working extra well, right?" Wrong.
"No pain, no gain is a terrible motto when dealing with your face," says Lucile White, MD, a dermatologist in Houston, Texas. Skin care should not sting, tingle, or burn on a daily basis. If it does, you'll get redness, peeling, and flaking. "Those are signs of chronic inflammation," says Karyn Grossman, MD, a dermatologist, who practices in New York and Santa Monica. In other words, your skin ain't happy, and inflamed skin will develop a cascade of other issues — dryness, tightness, and increased sensitivity.
But here is what's confusing: Many proven skin care ingredients, like acids and retinoids, might in fact sting, and in that particular case, they're supposed to. For products like those, tingling can be okay if it is short (three seconds or less) and intermittent (not daily).
So, how do you know if feeling the burn is the good kind or the bad? Ahead, the pros explain how to keep from getting burned by your skin care.
When you use an exfoliator or scrub
The tip off here is the word "acid." Any face wash, peel pad, scrub, or mask with alpha-hydroxy, glycolic, lactic, or salicylic acids might cause some tingling. 'The sensation could be because of their acidic pH or the concentration of the acid,' says Dr. Grossman. The feeling should be fleeting. And again, tingling on a daily basis spells trouble for your skin. So if your weekly peel pad stings a bit, that's fine. But if your every day face wash does, find a replacement, stat.
Scrubs that slough with grains and microbeads shouldn't sting, unless they've been formulated to be "energizing" or "fresh" feeling, which means generally created with the addition of menthol.
After sloughing, be a watchdog with the rest of your skin care. That top layer of dead skin had to go, but with that newly uncovered complexion "other products you're currently using might seem a little more potent or a little more irritating," explains Dr. White.
When you use a face cleansing brush
It's a powered brush, not a power tool, and washing your face with one shouldn't feel any rougher than using a washcloth. "The machine is doing all the work," says Dr. Grossman. "All your hands should be doing is gently holding it to your skin. Don't do that and scrub. People love to scrub too hard." Don't press the brush into the skin or mechanically scrub with it. The brush has a motor for a reason — it will do all the hard work for you.
If you're feeling any kind of tingling or burning, back off. "You're scrubbing off too much of your skin," says Dr. White. Either you're using the tool too aggressively, or you've paired it with an exfoliating cleanse or scrub, and the combo is more sloughing than your skin can safely handle. The fix is easy: Switch to a mild cleanser like one from CeraVeor Cetaphil.
When you use a toner
These grease-soppers generally don't sting. "Alcohol evaporates quickly and feels so cooling," says Dr. Grossman, a short-lived sensation that's akin to a tingle. But, you may very well feel nothing at all, unless your skin is inflamed from, say, acne treatments. If you feel more than that, check the ingredients: Some toners these days contain mild acids to slough skin, too.
Of course if your male roomie 'borrows' your toner, that's another story. On shaven skin with any cuts or abrasions, alcohol can prickle, as does witch hazel.
When you zap a zit
Speaking of acne treatments, this is where overdoing it leads to some not-so-pretty results. And let's face it, we have a tendency to attack every zit like it's the ex that broke our heart. Why this backfires: Zit-zappers can seriously dry skin with one of two active ingredients, benzoyl peroxide or salicylic acid. Salicylic acid is designed to get oil out of pores and might sting, especially if you put it on a picked pimple. Benzoyl peroxide shouldn't sting, but again, parches skin and could lead to peeling over time. Use too many acne treatments with these actives or simply use them in too strong a concentration, and they turn skin dry, flaky, and tight.
When you use a clearing mask
Pore-degunkers use mud, made of silica, to pull impurities out of skin, and they're usually sting-free. If your skin is smarting, "it's likely just the feeling of something drying on your skin, and your skin feeling tighter," says Dr. White.
In keeping with the 'no pain, no gain' motto, though, formulators may spike these with ingredients like menthol, that you will feel. The sensation is meant to give the impression the mud is working. But on its own, mud is not an irritant.
When you use a night cream
Moisturizers are designed to feel good, but anti-agers are another story. The gold standard class of anti-aging ingredients are vitamin A derivatives called retinoids. Retinoic acid is the prescription form, and retinol is what you'll find in over-the-counter creams. Given their proven track record of reducing wrinkles, fading dark spots, and refining pores, it's not a huge surprise that these are pretty widespread in creams.
These can sting a bit, and if you dive into using too much of these right off the bat, you could get some nasty redness and peeling. "Start off using one every third night. And in a month, if your skin tolerates that (no dryness, redness, or peeling), then increase to every other night. And the month after that, if your skin is doing well, increase it to every day," Dr. Grossman says. This process can feel like a serious exercise in delayed gratification, but these are long-term players. Spot fading and wrinkle reducing take time.
Otherwise, a basic moisturizer (with glycerin or hyaluronic acid) or an anti-aging night cream with active ingredients like peptides shouldn't cause any stinging. One more ingredient to watch out for: the antioxidant vitamin C or ascorbic acid can cause a tingle for some.
When you use an eye cream
Steer clear of any kind of burning here. "The skin around your eyes is some of the thinnest skin on your body. Eye cream that stings, and continues to sting for minutes after you apply, is causing an irritant reaction. Wash it off, or you could end up with red raccoon eyes," advises Dr. White.
The one exception is a retinol eye cream. Retinol, as we've already mentioned, does cause some stinging, and needs to be slowly incorporated in a skin-care routine. But if you have prolonged stinging or turn red, wash it off. Your skin simply may be too delicate for it.
When you use a product with sunscreen in it
"Don't tolerate any stinging from a sunscreen," says Dr. White. Why? The ingredients we've spotlighted so far — acids, retinoids, benzoyl peroxide, menthol — are all irritants. Dump too much of these too often on any person's skin, and it will flare-up. Most of us can use a sunscreen without a hitch, so a reaction to anything with SPF in it is likely a skin allergy. A trip to the derm can suss out the culprit for sure (well, make that multiple trips: patch testing generally takes three visits).
But as chemical sunscreen is a common allergen, says Dr. White, an easy at-home fix is to switch to a daily sunscreen with titanium dioxide or zinc oxide, minerals that usually don't cause reactions. Try SkinCeuticals Physical Fusion UV Defense SPF 50 (super sheer with a light tint) or Neutrogena Pure & Free Liquid Sunscreen Broad Spectrum SPF 50 (also incredibly sheer).
SOS Solution
So you're red and peeling? Don a baseball cap, big sunglasses, and head to the nearest drugstore to pick up a 1% hydrocortisone cream, an anti-inflammatory.* Also, buy some Cetaphil or CeraVe cleanser and cream. Go home, and start your next Netflix binge. For two days, apply a thin layer of the hydrocortisone cream morning and night — and nothing else. Use the gentle cleanser, or if even that hurts, cleanse with water alone. On day three, baby your skin with the plain cleanser and cream morning and night, and keep that up 'til your skin calms down.
Once your skin looks normal again, restart your skin care and makeup regimen. If you know the culprit was going too hard with the acne treatments or Retin-A, you can use these again — just less of them, and way less often. If you think you had an allergic reaction to something — maybe the fragrance of your new serum? — toss the product. If you really want to get to the bottom of a potential allergy, you can take the offender to your dermatologist for examination, and sign up for patch testing.
*See a dermatologist or your primary care doctor for a prescription-strength cortisone if you feel your skin is in especially bad shape (the kind of aftermath that elicits stares from strangers or has your friends asking, 'What happened to you?').