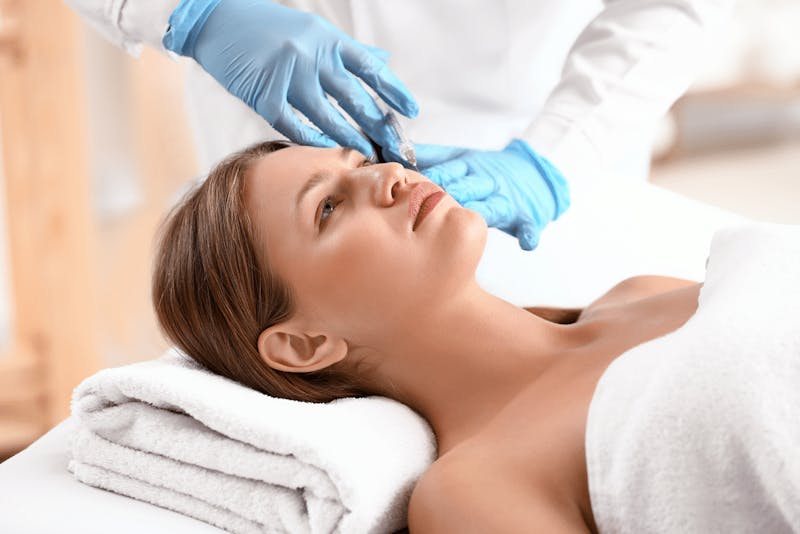 We all know aging skin is inevitable, but sometimes our faces age a little faster than we expect. If you have been considering Dysport treatments to help smooth out your facial lines, you may be wondering how many treatments will be needed to give you the results you're looking for. We at Grossman Dermatology of Santa Monica, CA, and New York, NY, are here to help you address some of the questions you may have about your treatments.
How Many Dysport Treatments Are Needed?
Understanding How Dysport Works
To better understand your expected timeline, it will help to have an understanding of how this treatment actually works. Basically, it is a purified and isolated protein from botulinum type A. It is a neuromodulator, and when it is injected it will affect the nerve signals to that muscles of that particular area. It comes from the same protein as Botox and Xeomin.
As the muscles are no longer being told to move by the nerves, they relax. It is this relaxation that causes the wrinkles over these muscles to smooth over. This is a popular treatment for many different wrinkles affecting the face as well as the neck and jawline. When properly administered, it will not "freeze" your facial expressions, which in turn will give your results a more natural look.
Now that we've briefly covered what it is and how it functions, it's time to take a look at what results and timeframe you can expect after your treatment.
What Kind of Wrinkle Is Being Addressed?
While it is best known for its ability to smooth out the frown lines that appear between our eyebrows, Dysport can be used for a multitude of different treatments. It is fast-acting, so you can generally expect noticeable results within two to three days, after just one treatment.
Most clients remain satisfied with their results for up to four months, but some are even able to go six months before they seek out another treatment. In most cases, that boils down to two or three treatments a year. However, the results you're looking for will have an influence on how many treatments you may need, and how long it can take to see improvement.
Static and Dynamic Lines
Dynamic lines are the first lines to appear on our faces. They are caused by the movement of your face, such as squinting, frowning, or furrowing the brow. When you relax your face, these dynamic lines should disappear. Over time, caused by both gravity and consistent usage of our facial muscles, dynamic lines become static lines.
Static lines stay in place even when your face has returned to a neutral expression. As with all wrinkles, the appearance of static lines can be expedited by sun exposure, smoking, and poor nutrition, but most are simply the result of age. Static and dynamic lines may vary in intensity, but both can be successfully addressed.
Glabellar Lines Between Your Eyebrows
Glabellar lines are also known as frown lines. They are one of the most popular wrinkles to have treated, as they can make it look as though your brow is furrowed, even at rest. Treatments for Glabellar lines are particularly effective.
Some younger clients have opted to be treated for frown lines as a preventative, as the less work the muscles between our eyebrows have to do, the fewer wrinkles will develop over time and the fewer treatments will be needed over the long-haul.
Other Uses for the Browline
Treatments can also be applied for a gentle, natural-looking lift to the brows, which will open up your face. As it is very frequently used for the previously mentioned vertical frown lines, it makes sense that it is also used on horizontal lines that can appear above and below the eyebrows.
Forehead Lines
When used on forehead lines, you may be able to go as long as five months between treatments, depending on the depth of your lines. Many clients are intimidated at the thought of treating forehead wrinkles, and for good reason. We have all seen what it can look like when someone's forehead is so smoothed over they can barely wiggle their eyebrows or make a discernable facial expression.
At Grossman Dermatology, we don't believe in freezing your face. With a skilled application, you will be able to still move your face and keep your treatment discreet while also providing lasting results.
Nasolabial Folds
Nasolabial folds can deepen over time. In particular, the lines that come down from the corners of the mouth can sometimes cause the appearance of a frown. This is another area that can be addressed successfully, with results generally lasting between three to four months.
Use In the Neck and Jawline
When it comes to treatments administered to the neck and along the jawline, the length of results can vary. This can depend on factors such as how thin or thick your skin is, and how pronounced your lines are. If the targeted lines are shallow and the skin is receptive, you can expect your results to last on the longer side of the spectrum. However, even when used in more severe lines, Dysport is considered very effective for at least two to three months.
Some areas of concern addressed throughout the neck are the rings that appear horizontally around the neck, as well as vertical lines down the neck. When used around the jawline, neuromodulators can sculpt, lift, and re-shape the jawline.
Other Common Applications
As you can see, this treatment can be used for so much more than frown lines. It is a flexible treatment, aimed at providing you with a greater sense of confidence. Rather than making your face look artificial, or making you look like a totally different person, the goal of these treatments are to tactfully smooth over some of the more obvious signs of aging.
In addition to the uses we covered above, other areas we have successfully addressed include:
Crow's Feet
Fine lines underneath the eyes
Mouth "lipstick lines"
Contributing Factors
There are more contributing elements that can affect the length of time between your facial treatments. Each of our bodies is individual, which can make predicting how long it will retain your treatments challenging. However, there are some common factors you can keep in mind as you consider how often to schedule an appointment.
Age Can Contribute
Younger clients may find they require less frequent treatments. This can be especially true if the client is using their neuromodulator injections as a form of prevention, rather than as a treatment. For lighter, more surface-level lines, a single treatment may prove satisfactory for up to six months in some milder cases.
Older clients may want to seek out treatments a little more frequently, within the range of every two to four months, depending on what areas of the face are being addressed. Aging skin is thinner, and as we age we also begin to lose our facial fat. This may also contribute to an older client's face having a bit more difficulty retaining treatment for longer than three to four months.
How Deep Are the Treated Lines?
As a general rule of thumb, deeper facial lines are going to resurface quicker than more shallow facial lines. The return of facial lines after treatment tends to be gradual, not something that happens overnight. Clients generally make another appointment when they begin to see this gradual return, before the lines completely make a comeback.
Your Individual Face
Each person is going to have a slightly different experience when it comes to the treatment of their lines and wrinkles. Your facial composition, as well as your body's sensitivity to the treatment, can all contribute to the outcome. This is why it is so important to seek out a qualified, trustworthy dermatologist, who can consult with you and help you figure out what you can expect for your unique face and skin.
The Right Technique Matters
A good dermatologist will have the training and experience to back up their treatments. They should have confidence in their ability, and a track record that proves their competence. The right application will have the best chance of giving you the results you hope for. It also can make a difference in the longevity of your treatment, and a better, less stressful overall experience.
How Does This Timeline Compare to Other Leading Products?
When choosing the right treatment for you, it's important to make an educated decision. When looking into Dysport treatments, the alternatives you are most likely to come across will be Botox and Xeomin. They are all neuromodulators, and they can all be considered an effective solution for facial lines.
While it is true that they're cut from the same cloth, per se, the results you can expect from each of these treatments will be slightly different from each other. For that reason, let's explore some of the differences between the three.


Taking a Closer Look at Botox
When the average person thinks of injectable wrinkle treatments, the first word that will come to mind is most likely "Botox." It has been on the market a bit longer than the other two. While Botox is still an effective treatment for wrinkles, Dysport is generally expected to spread under the skin with more ease than Botox does. Botox also tends to be a little more expensive than other treatments.
When it comes to comparing the timeline, results from Dysport may materialize faster than Botox, but treatments can be expected to last the patient for about the same length of time. This will also depend on the individual patient's reaction to either treatment.


Taking a Closer Look at Xeomin
Xeomin is made from the same protein as the other two, but it does not include as many accessory proteins. For the more eco-conscious, Xeomin has less waste associated with it, as it doesn't need styrofoam insulation or refrigeration. Xeomin may be the "new kid" on the block, but it has already shown promise as a treatment option for some facial wrinkles.
Dysport again tends to deliver results slightly faster than Xeomin and might be a more ideal option for a wide range of wrinkles. Xeomin tends to be a bit more specialized for use on frown lines.
Why Grossman Dermatology?
Dr. Grossman is passionate about providing the best quality care for her clients, to give them the best results they could hope for. Her vast experience has earned her a glowing reputation, especially when it comes to her ability to address wrinkles without stiffening the face. She believes in the mindset of correcting wrinkles without erasing her clients' identities or making them look plastic. With a track record like this, Grossman Dermatology is proud of our high retention rates, as it reflects our happy clients.
Contact Us Today
If you're ready for a face that reflects the best of you, contact Grossman Dermatology in Santa Monica, CA today to speak to our kind and knowledgeable staff. With offices in both Santa Monica, CA, and New York, NY, we are ready to help you on your path to a greater sense of confidence.