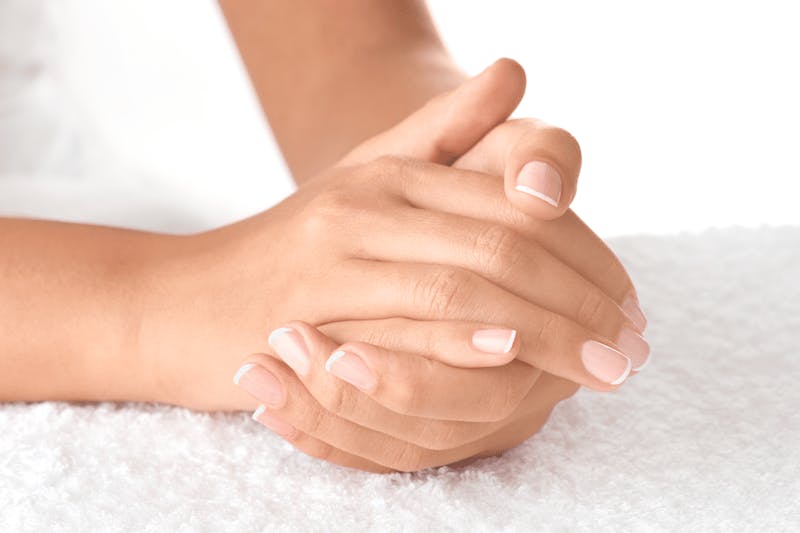 Would it surprise you to learn that your hands are one of the first parts of your body that betray your age? Between the loss of skin volume and visible dark spots from sun exposure developing over time, your hands are a place where the visible signs of aging make themselves known. Fortunately, at Grossman Dermatology in Santa Monica, CA, we know one of the best solutions for reversing these signs of aging is Radiesse, a unique dermal filler.

How Does Radiesse Restore Volume To Your Hands?
Radiesse is a dermal filler that restores volume to the skin for a more youthful appearance. When used on the hands, this unique calcium-based dermal filler is injected into the tissues of the hand, usually on the back of the hand between bones and tendons, to restore volume to the hands. The back of the hands is generally where the loss of natural skin volume through the aging process is most evident with thinning skin and more easily seen bones, tendons, knuckles, and other ligaments.

Although this filler can be used on the hands, it functions the same as any other dermal filler. A large component of a dermal filler's effectiveness is the amount of volume provided by the gel. This filler in particular has a thicker gel than others that produces long-lasting, natural-looking results.

What Is the Key To This Treatment?
In addition to the injectable gel being thicker than other fillers, the main key to this treatment is the ingredient calcium hydroxyapatite, which is a special synthetic compound that works to stimulate the body's natural production of collagen. The calcium hydroxyapatite is suspended in the gel carrier of the filler formula, which works to instantly restore volume even as the calcium compound is absorbed by the body and the body starts producing natural collagen and other skin-supporting proteins.

Why Should You Restore Hand Volume?
There are a few reasons why someone may want to restore the appearance of their hands. For one thing, hands are sometimes the first things people notice about you, particularly the health and appearance of your nails, any jewelry you are wearing, and how firm your skin is. Restoring hand volume may make it easier to wear jewelry such as rings. Other reasons you may want to restore the volume of your hands include:

More Youthful Appearance
When the skin is thinning or pigmented with dark spots, it can betray your age and make you look much older than you are. The reason why hands are some of the first areas of the body that betray your age is the fact that the hands are generally exposed to more direct sunlight than other areas. When you can restore the youthful appearance of your hands by diminishing skin laxity and wrinkles, you can enjoy looking and feeling much younger, particularly if you are using dermal fillers or cosmetic treatments on your face.

Natural-Looking Results
Another reason you may want to restore hand volume with this specific dermal filler is the fact that this treatment produces natural-looking results. This dermal filler settles naturally beneath the skin and helps your body produce its own collagen, which naturally fills in the volume of your skin in a way that appears natural. A major benefit of natural-looking results is the fact that these results will also move and feel natural.

How Much Filler Is Necessary for Treating Hands?
Dermal fillers such as this one are usually measured in syringes and for the hands, one syringe per hand is usually adequate for restoring skin volume. Of course, depending on the severity of your volume-related concerns, you may only need half a syringe in each hand to achieve a more youthful appearance. We will determine the appropriate amount of filler for your cosmetic concerns during your consultation and treatment.

Other Frequently Asked Questions
1. Where Else Can This Treatment Be Used?
Radiesse is a diverse dermal filler treatment that can be used on virtually any area of the face, in addition to being used on the back of the hands. In fact, the reason why this dermal filler is so popular is due to the fact that it isn't limited to any one area of the face, which makes it somewhat unique among other dermal fillers that are designed for specific purposes. This all-in-one dermal filler can be used to treat:
Glabellar lines
Crow's feet
Hollow temples
Nose tip and bridge
Nasolabial folds
Laugh and smile lines
Cheekbones
Hollow cheeks
Chin wrinkles
Marionette lines
Jowls and jawline

Like many other dermal fillers, while this treatment is often used to correct the appearance of age-related concerns, this treatment is also frequently used for contouring the appearance. This filler can be used to create a V-shape to the jawline, sculpt the cheekbones and the chin, and also refine the shape of the nose. Uniquely, this treatment can also be used to reduce the signs of skin laxity on the neck.

2. Does This Treatment Hurt?
No, this treatment is not painful. This is partially due to the fact that the filler formula also contains lidocaine, which is a local anesthetic that creates a mild numbing sensation to the affected area. At the request of the patient, we may also apply a topical numbing cream to the skin before the dermal filler injections are made to ensure patient comfort. Some patients also like to take an over-the-counter pain reliever like Tylenol about one hour before their appointment.

3. Is There Anything You Can Do To Prepare for Treatment?
Yes, there are some things you will need to do to prepare for your treatment. For example, you should prepare for your treatment by avoiding direct unprotected sunlight, tanning beds, and active skincare products like Retinol on any intended treatment area. You should also stop taking any blood-thinning medications to minimize any bruising after the treatment.

Patients may also want to prepare for their treatment by using an oral or topical Arnica Montana product, which promotes healing in the body and reduces the amount of bruising and swelling you may have at any injection sites. Products like Sinecch can also reduce your recovery time.

4. What Are Your Aftercare Dos and Don'ts?
After your treatment, you should avoid rubbing, massaging, or touching the injection areas so you do not disturb the filler as it settles beneath your skin. You should also avoid excessive heat, sweating, exercise, and hot water, including hot tubs and saunas.

It's also important for you to avoid direct unprotected sunlight, as this may contribute to skin irritation, skin sensitivity, or the dermal filler breaking down before it is absorbed in the body. You may receive additional aftercare recommendations after your appointment.

5. How Long Is the Recovery Period?
There is no formal downtime associated with dermal filler treatments, even for fillers that are used on the hands. Most patients can return to their normal daily obligations, including work and childcare, on the same day as their appointment. However, you should not exercise for at least three days after your appointment, and be sure to avoid any extraneous lifting. Otherwise, please follow all aftercare instructions that are provided to you.

6. How Quickly Can You See Results?
Most people believe that they see their results on the same day as their treatment appointment, but it's important to remember that your initial results are largely caused by the water contained in the gel formula. Over the next few days, your initial results will diminish as the filler is absorbed into your body.

That said, you will begin to see the results of your treatment within five to ten days of your appointment. Your results will continue to improve over time as your body begins to produce more collagen and collagen maturation settles into the sub-dermal layers of your skin. Most people can experience their full results within three months of their treatment.

7. How Long Do Results Last?
The results of this filler are designed to last at least 12 months in the hands and in other areas of the body. It's possible that your results may last a bit longer if your body produces more collagen or if you are making efforts to maintain your results. Younger patients and those who respond better to the calcium formula may be able to enjoy results for a slightly longer period.

8. Can You Enhance Your Results?
Yes, you can absolutely enhance your results. When it comes down to it, enhancing the results of your treatment is all about maintaining your results and doing what you can to prevent future age-related concerns. The better you are about preventative skincare, the better your results will be.

Sun Protection
If you want your results to last and be successful, then you must be serious about sun protection. You should wear SPF 30 or higher anytime you plan to be outside during the daylight, which includes wearing SPF on your hands to prevent further photoaging. For those who have light-toned skin or skin that is prone to burning or freckling, you may want to use stronger SPF. Even those with medium to dark complexions should wear SPF during the daytime.

Skincare Products
Using the right skincare products can also enhance your results. Because the results of this treatment depend on natural collagen production, it's usually a good idea to use skincare products that support collagen within the skin. Using products that are rich in hyaluronic acid, for example, can help retain the moisture in your skin and support collagen production.

9. Should You Consider Treating Multiple Areas?
Yes. In addition to your hands, you should also consider treating the areas of your face where skin laxity and wrinkles are beginning to appear. Treating your age-related concerns at one time will produce comprehensive anti-aging results and also make it easier to maintain your aesthetic goals.

10. Should You Combine This Treatment With Others?
Absolutely! In fact, combining this treatment with others may be a good idea if you have additional superficial skin concerns that can't be treated with a dermal filler. For example, if you also have dark spots and blemishes, then you may want to use skin resurfacing treatments to reduce the appearance of pigmentation concerns so that your skin will look younger.

11. Who Are Good Candidates?
Good candidates for this treatment include any adult who would like to improve the volume of their skin, particularly on the back of the hands. You are likely a good candidate if you are not currently pregnant or breastfeeding, and if you have no history of allergies to any active ingredients in this filler.

Rejuvenate Your Radiant Beauty With Radiesse
Although your hands may be one of the first areas of your body that betray your age or prematurely age you, there are steps you can take to rejuvenate your skin to look as young as you feel. If you think Radiesse is a good rejuvenating treatment for your age-related concerns, please contact Grossman Dermatology in Santa Monica, CA to schedule your consultation appointment today.