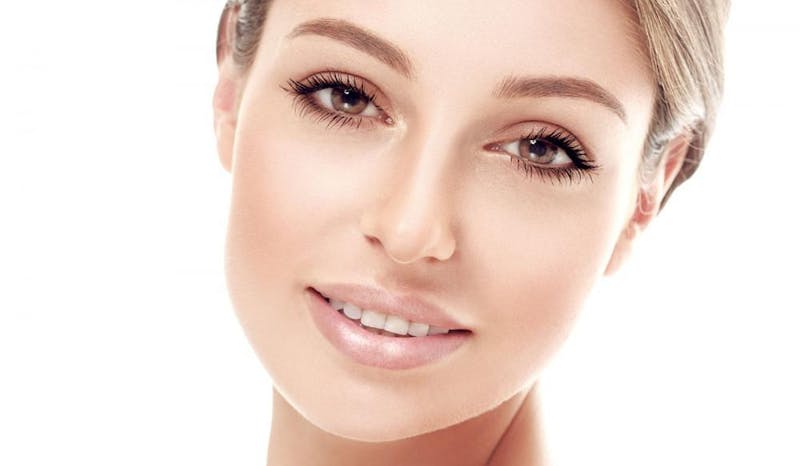 If you're seeing loose and sagging skin appear on your face and body, we know how discouraging this can be. We also know your life is very full and busy, so you may not have the time or space to commit to the downtime of an invasive procedure to tighten your skin. Luckily, there is an effective and safe skin tightening treatment that requires no downtime. Just call Grossman Dermatology in Santa Monica, CA and ask about Thermage.
What Causes Loose Skin?
If only it were as simple as telling you to just avoid a few things and promising you'll have tight and firm skin forever! Unfortunately, it's not that simple, and nobody can really avoid the skin laxity that will eventually come with age.
Collagen Fibers
Collagen is a fibrous protein that makes up 80% of our skin. Tight skin has an abundance of this protein, and it's packed tightly together in the middle layer of our skin. Collagen holds all of our skin cells together and makes sure our layers stay tightly pressed to each other. This allows the surface of our skin everywhere on our bodies to look smooth and taut.
The middle layer of our skin becomes the foundation for a strong and healthy complexion. When this layer is in shape, it's solid, and there are no crevices or dips for our skin to fall into. Our bodies then have skin that clings tightly to our frames without sagging areas. Collagen also works closely with the protein elastin and the sugar hyaluronic acid.
Elastin
This protein is crucial to tight skin. You can guess from its name it is responsible for our skin being elastic and flexible. When collagen is in abundance, so is elastin. Young skin can withstand being pulled and stretched, even by gravity, and it will snap back and keep its shape.
Hyaluronic Acid
You're probably seeing more and more skincare products touting this naturally produced sugar as their active ingredient, and for good reason. The molecules of hyaluronic acid hold 1000 times their weight in water. When hyaluronic acid is abundant in our skin, it attracts moisture so our complexion is supple and has a hydrated glow.
The Inevitable Decline
No matter how hard we work to maintain a healthy lifestyle through a good diet, exercise routine and skincare regimen, eventually our skin will lose its elasticity. This results from the 1% decline of collagen that begins in our early 20s. When collagen declines, so do elastin and hyaluronic acid.
Our Skin's Foundation Weakens
As our supply of collagen diminishes, the strong foundation we used to have weakens, leaving it vulnerable to areas of lost volume like crevices and areas of disconnect between cells. Our skin will eventually cave to fill in these areas, leading to wrinkles and folds on our faces. This weakening of skin doesn't just happen on our faces.
All over our bodies, the grip our skin has on our frames loosens. You'll see areas of your skin sag and be looser than they used to be. Our loss of elastin means our skin can't keep its shape against the force of gravity any longer. Areas most likely to see drooping skin include:
Eyebrows
Chin and jawline
Neck
Upper arms
Thighs and knees
Abdomen
Other Reasons for Sagging Skin
The loss of collagen alone is enough, but there are even more factors that can add to the appearance of sagging skin. If you've lost a lot of weight, particularly if you carried that extra weight for an extended period, your skin may not be able to recover from the stretching it had to do to cover the extra mass.
Pregnancy is notorious for leaving women with extra skin around their abdomens. This is because of a combination of the extra volume around the stomach and natural hormone fluctuations. Other reasons you may experience sagging skin include:
A genetic predisposition
Adolescent weight gain and subsequent loss
Poor posture
Poor hydration
The Sun
We'd be remiss if we didn't talk about the single biggest cause of premature aging and loss of elasticity in the skin. The harmful UV rays of the sun will cause more collagen damage and early loss of production than aging alone. To protect the youthfulness of your skin tone and texture, you should always:
Wear a broad-spectrum SPF 30+ when in the sun
Apply sunscreen 15-30 minutes before exposure
Wear wide-brimmed hats and polarized sunglasses
Reapply sunscreen every two hours if engaging in exercise
Be extra cautious on reflective surfaces, like water and snow
Every skincare professional will tell you the biggest investment you can make in your skin is the religious application of sunscreen.
Thermage
The good news is that once you start to notice the sagging and loose skin that can highlight wrinkles and make you look aged, you don't have to invest in an invasive surgical procedure. Thermage is a revolutionary way to tighten areas of skin laxity with no downtime.
How Does Thermage Work?
The Thermage system works by delivering non-invasive radiofrequency energy to deep levels of the skin. The radiofrequency energy goes deep into the skin but leaves the surface unharmed, which differs from so many ablative laser treatments that require lots of healing time. Once below the surface, this energy gently turns to heat.
This heat causes your existing collagen chains to immediately shorten and thicken, creating a noticeable tightening effect. The real results come because of an increased production in collagen that also stimulates elastin and hyaluronic acid. Production of collagen increases because the molecular structure of the protein has been modified by the heat of the treatment.
Where Can
Ther

mage Be Used?

Almost anywhere you're experiencing unwanted slackening of your skin or wrinkles caused by skin laxity can be treated. Only your doctor can determine if this is the right solution for your specific areas of concern. In general, areas successfully treated by Thermage include:
Face
Neck
Jawline
Knees
Abdomen
Arms
Legs
Buttocks
Thighs
Imagine having tighter skin again in these areas. You won't have to cover up with bulkier clothing, and you won't feel self-conscious about these areas anymore.
What to Expect
You and your doctor will have an in-depth consultation to discuss your areas of concern and the results you'd like to achieve with treatment. You'll have a physical examination of the skin to be treated so your doctor can assess the condition of your skin to ensure you're a good candidate.
Pre-Treatment
Because this is both non-surgical and non-invasive, you won't have a lot of preparation to do. There are a few things to avoid, however. The first is anti-inflammatories right before your treatment. This process relies on stimulating inflammation in existing cells to produce more collagen and engage an immediate tightening. You may also be asked to stop taking blood-thinning medication.
During Treatment
When you arrive at your appointment, you'll be given special eyewear if you're having your face and eyes done. Thermage has a four-step process.
Step One
A smooth, cooling gel is applied to the skin of the treatment area. This serves two purposes. This first is to ensure your skin remains cool and comfortable throughout the process. The second is to act as a conductor for the RF energy, allowing it to keep the surface of your skin intact while heating deeper levels.
Step Two
The specially designed tip of the device is placed against your skin. This tip will alternate between radiofrequency energy and providing a cooling sensation to keep you comfortable while still delivering effective treatment.
Step Three
The radiofrequency energy will be delivered directly to the targeted areas. While this is happening, the deeper layers of your skin's collagen are being heated. Your doctor will check in with you to ensure you're comfortable while still providing enough radiofrequency to get results. Most clients find this a very comfortable treatment.
Step Four
During and after the process, more cooling will be applied to the skin. As soon as the treatment stops, most clients report their skin feels a normal temperature.
The length of the appointment depends on the area being treated. Some can be as quick as 30 minutes. If you're having larger areas or multiple areas treated, an appointment may take up to two hours.
After Treatment
You can go immediately back to your routine: there is zero downtime. Many people have this treatment done during their workday or busy social schedule and immediately return to it after their appointment. Follow any doctor specific instructions you might be given.
Immediate Results
Even though you're waiting for your collagen production to increase so you can see the transformative results, you will see some immediate results. You'll notice your skin is tighter than it was when you walked in for your appointment.
This quick positive change occurs because the existing collagen in your skin was disrupted by heat and that heat caused them to shorten and thicken, pulling everything in and closer together. Your results will only continue to improve from there.
Long-Term Results
The big results happen gradually over the three to six months after treatment. Your collagen is hard at work repairing each layer of skin from the inside, out. As each layer gets stronger and more tightly packed together, it attaches itself to the layer on top of it and the process starts again until the last, outer layer is pulled closer.
This healing process causes more youthful contours to be restored and a younger tightness will return to your skin. You'll find it hugs your frame more closely. Clients report a boost to their self-confidence and liking the way they look in pictures much more post-treatment.
How Long Do Results Last?
Most clients only need one session to experience the transformative results they're hoping for. Results are intended to last for one to two years. It's recommended patients come back annually for a maintenance session so their results can be enjoyed seamlessly. Of course, each client's results vary.
Who Is a Good Candidate?
Only our doctors can help you determine if this is the right treatment for you. You'll discuss your areas of concern, and they'll set realistic expectations with you. If you're a healthy man or woman unhappy with the appearance of sagging or loose skin on your face or body, this could be the right treatment for you.
This treatment has a proven safety record and has been effectively and safely used for over ten years, in over one million treatments and across 80 countries.
Regain Your Youthful Confidence
If you're bothered by the sagging and loose skin you see in the mirror, you don't have to wait to make the changes you want. Call Grossman Dermatology of Santa Monica, CA to schedule a consultation. We're committed to making your complexion as healthy and radiant as possible. We look forward to seeing you soon.