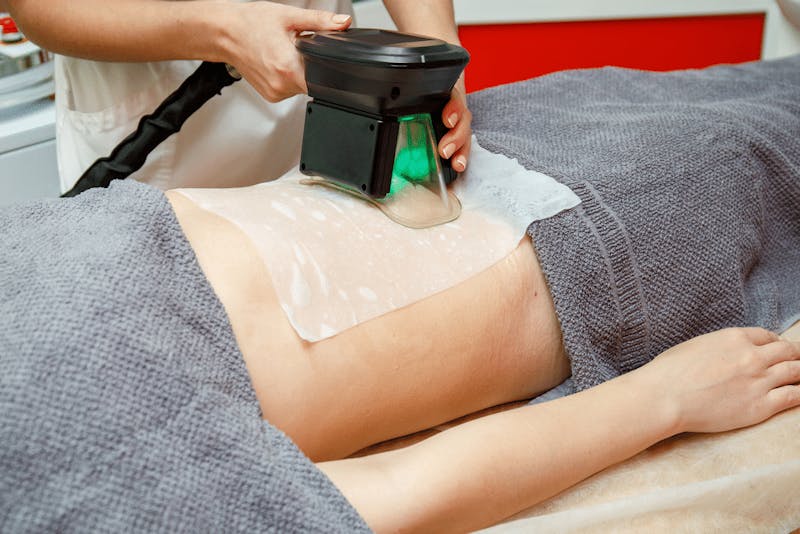 Even when you are serious about diet and exercise and maintain a healthy body, you can still get fat deposits that will not seem to go away no matter what you do. Coolsculpting was created to deal with that. At Grossman Dermatology in Santa Monica, CA, we can bring you this fantastic technology to help you get rid of stubborn fat. Stubborn fat can be a problem for many people because it can make you feel insecure about the way your body looks even though you are fit. Let us help you get the body you will be proud to show others.
Does Coolsculpting Really Work?
Coolsculpting, or cryolipolysis, is an effective technique for getting rid of stubborn fat deposits on certain parts of the body. This is fat that has been resistant to a traditional approach of dieting and exercise and appears to be removable only through a cosmetic treatment like cryolipolysis. The average amount of fat loss usually seen per treatment is between 10% and 25%.
What is Coolsculpting?
Fat Freezing
Scientists at Harvard University recently discovered that fat cells respond to freezing better than other kinds of stimuli and that fat tissue is more easily injured by freezing than other types of tissue. This led the scientists to the idea that you can target specific pockets of fat on the human body and freeze them away.
Cryolipolysis literally means cold fat destruction, and that is exactly what it is. The process literally freezes fat off the body and then it is naturally absorbed by cells in your immune system.
Subcutaneous Fat vs Visceral Fat
There are two kinds of fat in the human body. Visceral fat is stored in the abdomen and surrounds organs like the intestines, stomach, and liver. This kind of fat can also build up in arteries and have a negative impact on the functioning of the heart. This is a type of fat that is associated with health.
The other kind of fat is subcutaneous fat. This is the kind of fat that you can see under your skin. It is subcutaneous fat that is targeted by cryolipolysis. Getting rid of this fat is cosmetic and does not improve your heart health or internal health.
History
This technique was first tried in pigs back in 2007 and was found to be effective. Scientists were able to successfully remove the pigs' fat cells without doing damage to any of the other tissue. In 2010, the technique was approved for use in people. Since then, it has been performed more than eight million times.
Areas Targeted
Submental Areas
This area is located on the face, just under the chin. Some people get fatty deposits in the areas just under the chin, and they can be difficult to remove. This area may not respond to weight loss.
Submandibular Areas
The submandibular area is also on the face, just beneath the jaws. When fat deposits in this area, it can result in jowls. This can sometimes lead to a less youthful appearance.
Thighs
The thighs are very common areas for stubborn fat to deposit. Sometimes no matter how much exercise you do, you cannot get the fat to release from your thighs.
Abdomen
The abdomen and stomach area are other parts of the body that are typically a cause for concern. Fat may gather on at the base of the abdomen or along the sides. Because the abdomen often contains more fatty areas than other parts of the body, the treatment here may take a little bit longer than in other places.
Under the Breasts
A roll of fat can sometimes gather under your breasts and be very difficult to remove. This can cause your bra not to fit properly.
Back
Back fat is another area of concern, especially if you enjoy wearing clothing that shows your back. Deposits can form along the sides of your back or towards the center.
Under the Buttocks
Even if you are doing regular butt lifting and strengthening exercises, you may discover an area of stubborn fat that hangs on just underneath your buttocks.
Upper Arm
Fat can easily form in the upper arm area and cause you to feel insecure when you wear sleeveless outfits.
Treatment Process
Application
This treatment uses a specific hand-held device that looks like the nozzle of a vacuum. The professional administering the treatment will apply a cooling gel pad and the applicator to the specific treatment areas. The applicator will target each fat deposit with extreme cooling and mild suction.
The applicator is moved to each area of fat to be targeted until all of the fat has been treated. By the end of this part of the process, the fat will be frozen.
Massage
Once the applicator has been applied to the fat, the professional administrator will then massage the treated areas. This is to help break up the frozen fat to help it be absorbed and disappear more easily.
Absorption
Over time, your body will absorb the fat that has been frozen and broken down. This is accomplished through your natural immune system when certain cells with the job of cleaning up foreign objects in your body come in and absorb the fat.
Time
The process in the office usually takes between about one and three hours. This depends on which part of the body is being targeted and how much fat you are hoping to destroy. Many people listen to music, read, or use the internet while the treatment is being completed.
Candidates
Consultation
A consultation is necessary to determine whether this is the right treatment to address your concerns and whether you are a good candidate for this treatment. The first step is to bring you into our office for a consultation about what this treatment can and cannot accomplish and what your expectations may be.
We will ask some questions about your lifestyle, including diet and exercise habits. We will also ask about the medications you take and whether you are a smoker. Please tell us about any previous cosmetic procedures you have had and those you intend to have in the future.
Medical History
Our team will want to evaluate your medical history as part of determining whether you are a good candidate for this treatment. Please be ready to answer questions about your health and any ongoing medical issues you have dealt with in the present or in the past.
Knowing your medical background will help us understand if this treatment will work effectively for you, so we can give you appropriate expectations.
Diet and Exercise
This treatment is not for weight loss but for people who have already tried diet and exercise to meet their goals and have not had success. Before you consider Coolsculpting, you should have made a strong effort to solve your fat problems through dieting for weight loss and through exercises both aerobic and specific to the area where your body is storing fat.
If you have done the work to lose the fat on your own, and it remains in place anyway, it is considered stubborn fat. This treatment may very well be the right solution for you.
Weight Maintenance
Because fluctuations in weight can interfere with your results, you should maintain a consistent weight for a significant period of time before considering this treatment. If you gain weight after the treatment is completed, your fat may return quickly.
Please let us know if you have recently been pregnant, are breastfeeding, or plan to become pregnant. This could change the timing of your treatment.
Advantages
Non-Surgical
One significant advantage to this treatment, as opposed to other cosmetic fat removal treatments, is that it is non-surgical. This means that you will not have to spend time in a hospital or surgical facility and you will not have to be administered general anesthesia. There will also be no long recovery time or need for extra help at home.
No Needles
While many cosmetic treatments involve injecting substances into the body, this is not a treatment that requires any needles or injections.
Quick Recovery
The recovery time for this treatment is very fast. You can go home the same day and resume your regular activities.
Results Timeline
The First Three Weeks
You will begin to see changes in your body within the first three weeks after treatment. Fat cells will begin to grow smaller and eventually disappear. You may also discover that your clothing fits better.
The First Three Months
Most of your results will be visible within the first three months after the treatment is completed. At this time, the fat pockets should be almost completely dissolved, and you will no longer notice them on your body. You will see a difference with or without clothing.
The First Six Months
The fat flushing process will continue for about six months after treatment, although you may not see it visibly. This is the time when your immune system cells are working to absorb the fat that has been frozen and destroyed.
Additional Treatments
Some people elect to have additional treatments to remove more fat from their bodies after their first treatment. In most cases, this is done in a different area than in the previous session. You can schedule this at any time after your first treatment.
Another reason additional treatments may be required is if your body changes or you gain weight in those areas again. Fat deposits can return and will continue to be stubborn. We recommend you continue with a diet and exercise plan after your treatment to prevent weight gain that may reverse some of your results.
New Technology to Remove Stubborn Fat
If you struggle with areas of stubborn fat that just won't be removed through diet and exercise, and you don't want to have to undergo a surgical procedure, Cryolipolysis may be the answer to your problems. Through the use of new technology, you may be able to simply freeze that unwanted fat away forever without needles, anesthesia, or lengthy times of recovery.
Call us at Grossman Dermatology in Santa Monica, CA, today to schedule a consultation about your stubborn fat and how we can help you get rid of it. We will talk you through the CoolSculpting process and help you determine if this is the right treatment option for you. You don't have to live with fat that just stays on your body and won't go away. We can help you freeze and destroy it so it's gone for good.