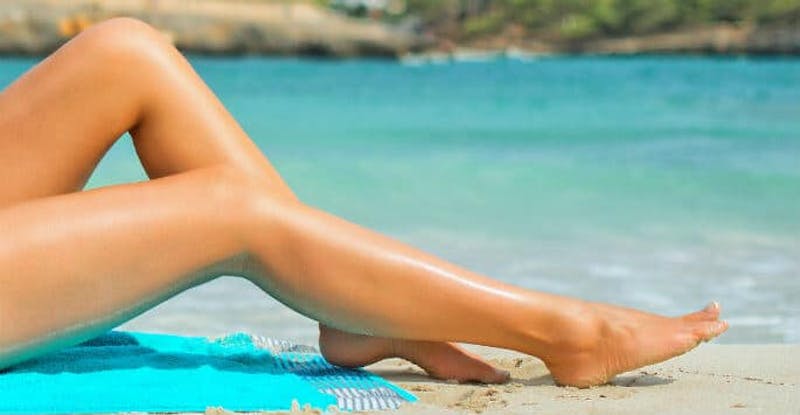 With summer time comes shorts, skirts and bathing suits. Unfortunately, it also means ramping up your hair removal regimen. Whether you shave, wax, pluck, or thread, summer practically demands you keep your legs and bikini line carefully groomed at all times.
If you're tired of the never-ending hair removal ritual, laser hair removal treatments may be the right choice for you.
How Laser Works
If you look closely at hair anywhere on your body, you can see that the hair has a bulbous root right under the skin. You can also see this if you yank out a hair and inspect it. This root is formed by the hair follicle, right under the surface.
During your first laser treatment, the technician will calibrate the laser to hone in on the color of your hair roots. The laser then heats the roots while leaving your skin unaffected. This damages the hair follicles and causes them to be unable to produce hair any longer.
If you've ever noticed that hair won't grow on a scar, you've seen that damaged follicles won't grow hair. With laser, however, the damage is harmless and invisible to the naked eye.
The Benefits of Laser Hair Removal
Laser hair removal offers up a lot of benefits other methods don't. You can come in for laser treatment with short hairs. As long as there are roots, the laser will work. This means you won't be able to pull the hair out with wax or thread, but you will be able to shave between treatments.
Laser is not an all-or-nothing treatment. Our hair grows in cycles and not all of our hair is growing at once. Laser only treats hairs that are currently in a growth cycle.
This means you can choose to thin out the hair on your arms or pubic region while choosing to have all the hair on your legs treated. You decide how much hair will be removed.
Determining If Laser is Right for You
The vast majority of people can benefit from this treatment, but there are a few conditions that may possibly disqualify you. Patients with psoriasis should not have laser done, as the conditions are aggravated by it.
Those suffering from an outbreak of herpes or acne in the treatment area will need to wait until the outbreak has passed to receive treatment, as laser can only be applied to unbroken skin.
If you're tired of constant shaving and waxing and want smooth summer legs year-round, laser hair removal may be just the solution you're looking for. Contact Grossman Dermatology today to schedule a consultation and explore the options available to you.